Charlotte Sorieul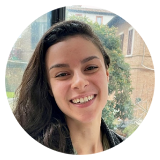 Born and raised in Vienna, Austria, I began my studies in life sciences at the Claude Bernard University, Lyon, France. After an internship on biotechnological applications of liposomes and a year spent in Munich, Germany, under the Erasmus+ program, I was awarded a BSc in Biochemistry in 2018.
With a taste for adventure, I embarked on a MSc in Biochemistry at the University of Uppsala, Sweden, and I graduated with a degree project focusing on SPR-based interaction studies of a fusion protein, the human carbonic anhydrase II to the enhanced green fluorescent protein, for the development of an in-cell interaction assay.
In December 2020, I started my PhD project within the PAVax training network at GSK Vaccines, Siena, Italy, working on the chemical conjugation of oligosaccharides to carrier proteins, combining antigens from both Pseudomonas aeruginosa and Staphylococcus aureus, with the hope of furthering the development of a polyvalent carbohydrate-based vaccine against resistant strains. My project is under the supervision of Dr. Roberto Adamo, and after 18 months at my initial placement in Siena, I will spend 18 months at the University of Leiden, Netherlands.
I'm also a keen cinephile, reader and general art lover, and other personal interests include cooking, travelling and playing saxophone.